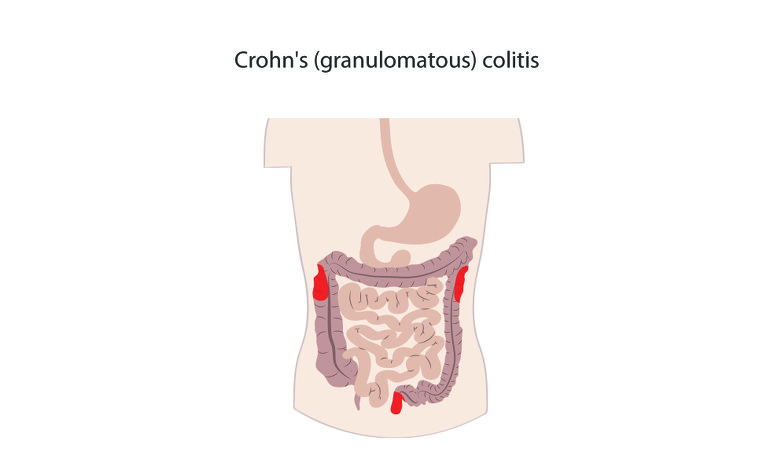 Overview of Crohn's disease
Signs and symptoms
People with Crohn's disease can have severe symptoms followed by periods of no symptoms that can last for weeks or years. The symptoms depend on where the disease happens and how severe it is. You might notice:




Complications
Crohn's causes two types of complications:
Local, which affect just the intestines
Systemic, which affect your whole body. You might hear them called extraintestinal complications.
Other symptoms
Some people with Crohn's disease also have:
A high temperature (fever)
feeling and being sick
joint pains
sore, red eyes
patches of painful, red and swollen skin – usually on the legs
mouth ulcers
CAUSES OF CROHN'S DISEASE
While the exact cause is unknown, Crohn's disease seems to be due to a combination of :
How do immune system problems relate to Crohn's disease?
If there is an invader that needs to be eliminated, your body's defense reaction begins. This immune system response causes inflammation. Immune system cells, chemicals, and fluids flood to the site to overcome the offending substance. After the substance has been disabled or removed, the immune response ends. Inflammation subsides.
Is genetics connected to Crohn's disease?
Environmental factors
Diagnosis of crohn's disease
This condition has many symptoms that are the same as those for other health problems.
To make a diagnosis of Crohn's disease, your doctor is likely to gather information from multiple sources. You'll probably go through a combination of exams, lab tests, and imaging studies with these goals in mind:
Rule out other health problems
Make a clear diagnosis of Crohn's disease
Find out exactly which part of the digestive tract is affected
Physical Exam and History
Belly pain and cramps
Blood in your poop
Drainage from a painful sore near your anus
Fatigue
Fever
Lack of appetite
Mouth sores
Urgent bowel movements
Weight loss
Lab Tests
Blood tests may include:
Antibody tests: These help doctors tell if you have Crohn's or ulcerative colitis:


Anti-Saccharomyces cerevisiae antibody test (ASCA): People with this protein are more likely to have Crohn's.
Perinuclear anti-neutrophil cytoplasmic antibody test (pANCA): People with this protein are more likely to have ulcerative colitis.

Complete blood count (CBC): It checks for anemia (low numbers of red blood cells) and infection.
C-reactive protein: It looks for this protein, which is a sign of inflammation.
Electrolyte panel: Your body might be low on minerals like potassium if you have Crohn's-related diarrhea.
Erythrocyte sedimentation rate: This gauges the amount of inflammation in your system by measuring the amount of time it takes for your blood to fall to the bottom of a special tube.
Iron and B12 levels: These can be low if your small intestine isn't absorbing nutrients like it should.
Liver function: The disease can affect your liver and bile duct.
While video endoscopy can provide valuable information, it won't work for everyone. You should avoid it if:
You have an obstruction in the small intestine. The capsule could get stuck and make the obstruction worse.
You have a narrowing in the small intestine, such as from Crohn's disease, previous surgery, or previous radiation therapy. The capsule might become stuck.
You have an implanted device like a pacemaker or defibrillator for your heart. Some doctors worry that wireless transmissions from the capsule might interfere with them.




Crohn's Disease Treatment: Common Medications for Treating Crohn's disease
Crohn's disease, also known as ileitis or regional enteritis, is a chronic illness. In Crohn's, the intestine, bowel, or other part of the digestive tract becomes inflamed and ulcerated -- marked with sores. Along with ulcerative colitis, Crohn's disease is part of a group of diseases known as inflammatory bowel disease (IBD).

Crohn's disease usually affects the lower part of the small intestine, which is called the ileum, and the beginning of the colon. The disease, though, can occur in any part of the gastrointestinal system. Thus, the disorder may affect the large or small intestine, the stomach, the esophagus, or even the mouth. Crohn's can occur at any age. It is most commonly diagnosed in people who are between the ages of 15 and 30.




What are the symptoms of Crohn's disease?
The
symptoms of Crohn's disease
depend on where in the bowel the disease occurs. They also depend on its severity. Symptoms can include:
abdominal pain and tenderness (often on the lower right side of the abdomen)
chronic diarrhea
delayed development and stunted growth (in children)
feeling of a mass or fullness in the lower right abdomen
fever